Edinburgh Trams set to exceed performance targets
Posted: 14 August 2015 | Katie Sadler, Digital Content Producer, Intelligent Transport
According to Edinburgh Trams, performance targets in its business plan will be exceeded this year following the publication of the company's annual accounts for 2014. The 2014 annual accounts for Edinburgh Trams show the service generated revenue of £6.4m in its first seven months of operation, around 3 percent higher than projected. During its first […]
According to Edinburgh Trams, performance targets in its business plan will be exceeded this year following the publication of the company's annual accounts for 2014.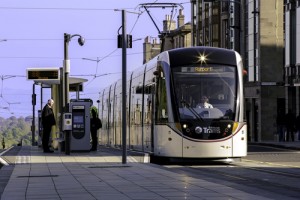 The 2014 annual accounts for Edinburgh Trams show the service generated revenue of £6.4m in its first seven months of operation, around 3 percent higher than projected. During its first full year the service carried nearly 4.92 million passengers, around 370,000 ahead of the target set before launch.
Ian Craig, Chief Executive of Transport for Edinburgh said: "The Transport for Edinburgh Group has achieved much in its first year. Alongside successful performance at Lothian Buses, Edinburgh Trams can boast impressive passenger numbers and strong financial performance when compared against the business model. We are especially pleased with how reliable and efficient the trams have proved to be, and that they are so highly rated by our passengers. This is down to the hard work of everyone involved and is something the team can take great pride in."
Cllr Lesley Hinds, Chair of Transport for Edinburgh, said:  "Everyone across the Transport for Edinburgh Group is to be congratulated for delivering a hugely successful operation over 2014. Innovations and improvements have been introduced such as new websites, customer mobile apps and refurbished Travelshops – all enhancements to the experience of passengers. Lothian Buses, and now Edinburgh Trams too, sit at the heart of life in Edinburgh, moving people to where they need to be in their millions each week, and driving our economy. These services are essential to the success of the city and I'm pleased that we're moving forward positively."
A budget to support the initial years of the tram service was agreed by the Council before the Edinburgh Tram launch. This budget was expected to be £0.6m in 2014 however, the final figure was £0.45 million which Edinburgh Trams attributed to strong performance.
The full 2014 Edinburgh Trams annual report can be found here.