FirstGroup place record £77.7 million order for new buses
Posted: 29 May 2015 | Katie Sadler, Digital Content Producer, Intelligent Transport
FirstGroup has today announced a record UK order for 385 new buses worth £77.7 million for delivery this financial year. First Bus, part of the transport operator FirstGroup, has placed the order with £3 million worth of funding from the Scottish Government's Green Bus Fund, Bristol City Council, Transport for Greater Manchester and the Department […]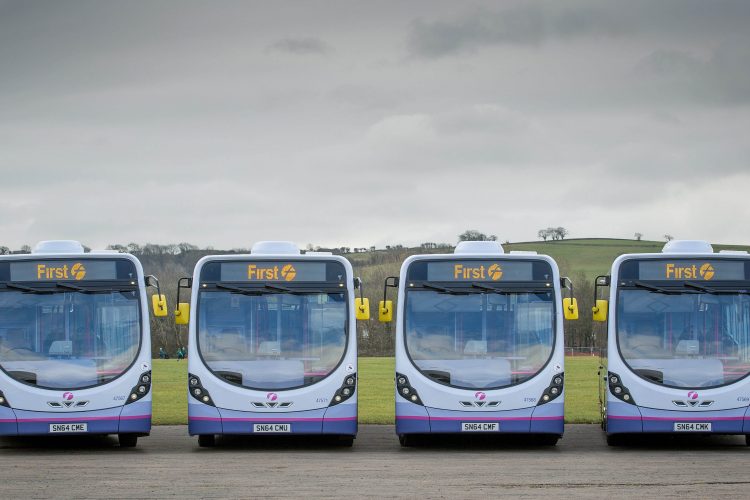 FirstGroup has today announced a record UK order for 385 new buses worth £77.7 million for delivery this financial year.
First Bus, part of the transport operator FirstGroup, has placed the order with £3 million worth of funding from the Scottish Government's Green Bus Fund, Bristol City Council, Transport for Greater Manchester and the Department for Transport.
The new vehicles, which feature a mixture of double deckers, single deckers, and midis, will all come fitted with leather seats, CCTV and Wi-Fi providing customers with free internet access.  In addition to the dedicated space for wheelchair users, FirstGroup will also provide extra space for pushchairs and trial the installation of USB charging points on some vehicles.  
Over 90 percent of the order will be fitted with Euro 6 engines – the largest UK investment (£73m) of this vehicle type to date. Euro 6 buses produce the same amount of certain exhaust emissions, including Oxides of Nitrogen (NOx) and Particulate Matter (PM), as one bus with a Euro 5 engine; these results produce a positive impact for towns and cities.
The majority of the 385 fuel efficient buses are Department for Transport 'low carbon certified'. The order now brings the company's fleet of low carbon vehicles to more than 750.
The order will be manufactured throughout the UK and Sweden – Ballymena based Wrightbus will manufacture 248 StreetDeck and Streetlite vehicles. Falkirk's ADL has secured an order for 117 vehicles of the Enviro 200 MMC, Enviro 400 MMC, Enviro 400 MMC GK and Enviro 400 MMC Virtual Electric type, while Volvo has won a contract to build 20 B5LH double decker chassis in Sweden, with the bodies manufactured by Wrightbus.
Giles Fearnley, Managing Director of First Bus, commented on the order: "This is great news for First Bus customers across the UK.  In five years we've invested around £385m in new vehicles.  Our £77.7m investment this year underlines our continuing determination to provide ever better bus services for our customers and reflects the increasing passenger numbers that we are seeing across First Bus.
"I'm delighted the overwhelming majority of our new vehicles will be fitted with Euro 6 engines.  The advances in engineering are remarkable and our investment represents one of the most environmentally friendly bus orders ever placed.  I'm proud that our Euro 6 order is the largest on record in the UK so far and will support efforts from our local authority partners to improve air quality in towns and cities across the UK."
Wrights Group Chairman and CEO, Mark Nodder, said: "We are delighted to continue our successful partnership with FirstGroup, and look forward to delivering more vehicles which are best in class for fuel efficiency and low emissions.  This is the largest order taken by Wrightbus for Euro 6 buses, a strong endorsement of the new technology and innovative design."
Colin Robertson, Chief Executive of Alexander Dennis Limited, added: "We are delighted to have won this very significant order and to be continuing our long-established and thriving relationship with FirstGroup. This latest order is a huge endorsement of our new-generation, market-leading midi and double deck buses and a further demonstration of FirstGroup's commitment to the green technologies of tomorrow. In addition, it should not be forgotten that orders like this support 2,000 ADL jobs in the UK and thousands more in our extensive supplier network."
Phil Owen, Commercial sales Director at Volvo Bus said: "We have worked closely with First Bus for many years and welcome their uptake of Euro 6 Hybrid vehicles. Euro 6 can make a real difference on air quality in Britain's towns and cities, while our hybrid technology delivers significant greenhouse gas savings. We are proud to continue our relationship with First."