Landmark year for Metrolink as Airport line takes off
Posted: 14 January 2015 | Transport for Greater Manchester
The new 15-stop Metrolink line to Manchester Airport is off to a flying start with more than 266,000 passengers using the line in its first few months…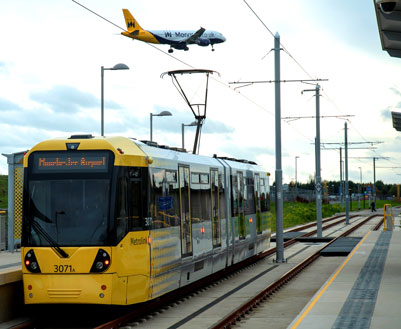 Landmark year for Metrolink as Airport line takes off
The new 15-stop Metrolink line to Manchester Airport is off to a flying start with more than 266,000 passengers using the line in its first few months.
The news comes as passengers opted to make a record-breaking 30 million journeys by tram in 2014, able to travel further afield on new lines to town centres in Rochdale, Oldham, Wythenshawe and beyond.
Metrolink, now the largest light rail network in the UK, covers almost 60 miles, with a fleet of close to 100 trams running to 92 stops across Greater Manchester.
Last year's major expansion of the tram network brought with it more places to travel to for leisure and work as Metrolink spurred on local regeneration and economic development, as well as boosting house prices in areas it runs through.
Work is now well under way on the Second City Crossing through Manchester, due to open in 2017 when the Metrolink fleet will be 120-vehicles strong – meaning more seats on trams and more frequent services running through transformed city centre stops.
It's expected that by end of the decade over 40 million passenger journeys could be made by Metrolink every year, helping to tackle congestion and move more people around Greater Manchester for work and play.
Councillor Andrew Fender, Chair of the TfGM Committee, said: "2014 was a landmark year for Metrolink, with the launch of three new lines meaning local residents and visitors chose to make well over 30 million journeys a year by tram, which is a staggering number.
"Metrolink now offers more journey opportunities than ever before – helping more people get to jobs and leisure in more of our local town centres, where the new tram lines are acting as a real catalyst for regeneration.
"We opened the new Airport extension through Wythenshawe over a year early and I'm not surprised to see it doing so well, offering a first class way to get around to 15 new stops.
"With a multi-million pound expansion and stop improvement programme taking place through the city centre, and plans for a new line to Trafford Park and the Trafford Centre gaining momentum, it's an exciting time for Metrolink."
The Metrolink network is benefiting from a £1.5 billion investment in new lines, new trams and stop improvements, including major overhauls of the Deansgate-Castlefield, Victoria and St Peter's Square stops to help them cope with millions more passenger journeys.
In November last year, £350m funding was also confirmed for a new line to Trafford Park and the Trafford Centre.
This year will also see the roll-out of smart ticketing to the tram network, offering a faster, easier, more flexible and hassle-free way to travel by tram.
For more information on the Metrolink expansion and improvement programme, visit www.transformationinformation.co.uk.