Dublin unveils three new hydrogen fuel cell buses
Commuters in Dublin could soon be travelling on hydrogen fuel-cell buses, after the NTA and Bus Éireann announced an investment of more than €2 million to purchase three zero emissions vehicles.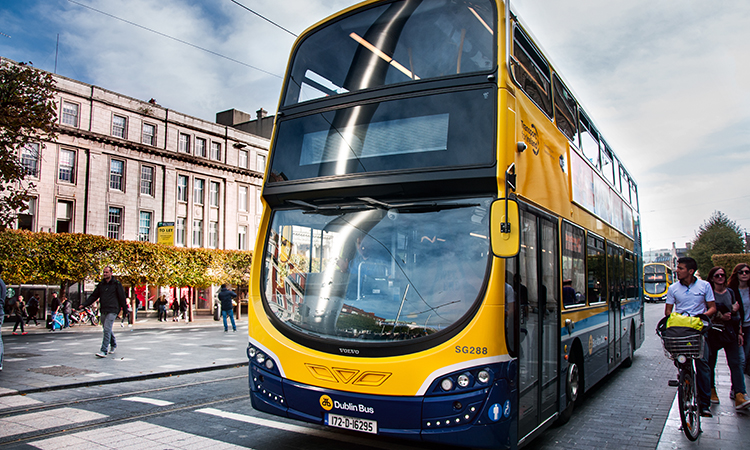 Dublin will welcome three new zero-emissions buses to serve commuters in the capital
The National Transport Authority (NTA) of Ireland in conjunction with Bus Éireann has unveiled three new hydrogen fuel cell electric double-decker buses that will initially be used on commuter services in the Greater Dublin Area.
The three vehicles were recently purchased by the NTA and will go into service next week on Bus Éireann's route 105X, which runs between Dublin and Ratoath, County Meath.
The buses will be subject to in-service evaluation as part of an alternative fuels technology pilot being undertaken by the NTA in collaboration with Bus Éireann.
The buses being unveiled represent an investment by the state of approximately €2.4m. The bus model in question – the Wrightbus Streetdeck H2 FCEV – is manufactured by Bamford Bus Company, and assembled at their factory in Galgorm, on the outskirts of Ballymena in Northern Ireland.
"Reducing carbon emissions from transport is critical to reaching our climate goals and will also improve air quality for all," said Minister for Transport Eamon Ryan TD.
"Other technologies such as battery-electric, are very well suited to bus services in urban areas, but on longer commuter and inter-urban routes, hydrogen fuel cell technology is an innovative zero pipe emission alternative to diesel.
I'm especially pleased that the Wrightbus Streetdeck, which is the first such bus in the world, is assembled in Northern Ireland and that Bus Eireann are piloting these buses on their commuter route between Dublin to Ratoath."
"As these new hydrogen buses go into operation with Bus Éireann, we are setting out on a journey towards a zero emission public transport fleet," added Anne Graham, NTA Chief Executive Officer.
"Procuring these three buses and putting them into service gives us an opportunity to pilot hydrogen-fuel-cell technology in daily public transport operations in Ireland and to assess the part it can play in the long term transition to a zero emission bus fleet.
"Thanks to Luas and DART, already almost a quarter of all public transport journeys on the Transport For Ireland network are on zero emission vehicles, and the NTA is committed to an accelerated transition to a more sustainable bus fleet.
"These buses are just one part of the overall approach, and hydrogen is just one of the technologies that we are looking to in the drive to make public transport more sustainable. Alongside these buses, we are also about to order 45 battery single-deck battery-electric buses for use in urban areas, with another 150 or so to come.
"And in the next month or so, we will be ordering the first 120 battery electric double-deck buses for use in the large cities, with another 680 to follow in the coming years.
"The NTA and the public transport operators are stepping up to the climate challenge."